Robby Johnson has been making waves with his video for "South of Me," and we had a chance to ask him some questions to help you get to know him better.  See what he had to say, then check out the video that's burning up CMT and YouTube!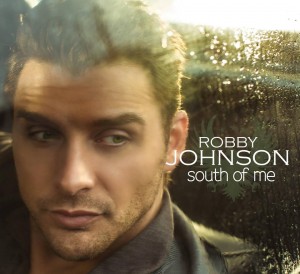 1. Your video for "South of Me" has been a huge hit on CMT and YouTube.  How has Country Radio reacted to it?
Comments I got was that they recognized the quality of the video, the quality of the production, the depth of the lyrics and decided it had all the rights to play on radio.
2. Speaking of radio, where were you when you first heard yourself on the radio, and what was your reaction?
Believe it or not, I was in South Florida with both feet in the sand. Talk about coincidence!!! I wrote "South of ME" in the sand and posted it on FB.
3. Hearing yourself on the radio must be pretty exciting, but what has been the biggest "Wow" moment of your career?
It's when I was given the opportunity to sing on a demo of an incredible song called "Together" co-written by Frank Myers, Anthony Smith and Chris Young.  They loved my interpretation so much that they agreed to give it to me for my upcoming album. What an honor!
4. What is the #1 item on your Bucket List?
That one of my songs becomes a generation's life soundtrack.
5. What is something you are very passionate about?
People's life stories.
6. If you weren't in the music business, what would you be doing for a living?
It's funny cause, not too long ago, I was actually living my life away from the music business as a sales rep on the road and wondering what I'd be doing if I weren't in sales.
7. If you could only listen to one album for the rest of your life, what would it be?
"The Ultimate Hits" Garth Brooks
8. Who is your biggest celebrity crush?
Demi Moore
9. What are your thoughts on the state of today's Country Music?
I believe it's like everything else in this world. It's simply evolving. It's what makes you enjoy the classics cause nothing will ever sound quite like it.
10. What advice can you give to aspiring artists?
Don't sing to change your own life. Sing to change the lives of others.