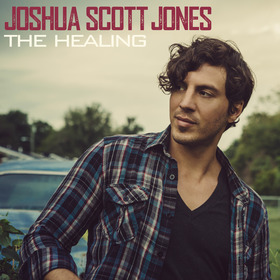 We caught up with Joshua Scott Jones, formerly of the duo Steel Magnolia, at the 2014 CMA Fest in Nashville.  He was looking exhausted, which is to be expected when you're working on promoting your debut solo album released the same week as CMA Fest!  Check out what he had to say!
Q.  You must be exhausted!  What's it been like being out on the road promoting your solo debut album?
A.  It's been awesome.  It's a dream come true, it's been a long time coming, and I've had a lot to say…a lot of music, and it's taken too long, it felt like, to get this thing out.  So, I'm glad that it's here and I'm ready to do it, ready for another push, and take Steel Magnolia fans into the next chapter of my career, and gain a whole new audience of fans.
Q.  The Healing is the title of the album, which is a great title considering all that you've had to go through to get to this point.  Tell us about the thought process in choosing that for the album's title.
 A.  Well it's funny, the song just kinda came together, "The Healing."  I was driving down 65 through Brentwood, and I just felt compelled to start writing these phrases and this melody came to me.  I pulled over as I was driving, and just got out my recording device on my phone and started humming that into this…it kinda felt like a Johnny Cash song to me, and ya know, I got the piano and kinda finished it off there.  And the song is called "The Healing," it's really powerful and it's kinda a hymn, kinda like a church hymn type of thing, and originally the album was going to be called Tennessee Blue, I thought that sounded cool…but that's the third track on the record.  But ya know, after it was all compiled and everything went together, it's a concept record over what I've been through kind of over the past few years in my life up to now, it felt like there was a healing going on with me and my life, and so it made sense to call the record that, so that's what we went with and that's where we are.
Q.  You're new single, "Honk (If You're Tonky)," how's the feedback been from radio and the fans?
A.  The feedback is awesome on it.  It almost feels like a slow burn right now, because we don't…it's new, but I think it's starting to catch on.  The feedback has been all thumbs up on it, so it's been really exciting.  It's an anthem for guys, or girls really, just about being a little rough around the edges but havin' a big heart, at the same time kinda not being afraid to be yourself, and I think everybody can relate to that.
Q.  How would you best describe the music on the album as an overall experience listening to it?
A.  I think it's a little different.  It's a little different, but it's all the same on the record.  I feel like it's my sound, my style, and ya know, it's…like the single "Honk (If You're Tonky)," ya get the feel of a little Dwight Yoakam and Bruce Springsteen, and Garth Brooks.  It's just kinda…it's very eclectic I think, but it's still got continuity to it.
Q.  Are those some of the guys that you looked up to as you were growing up?
A.  Yeah.  Waylon Jennings too…there's a tribute to him on there called "Lover Let Me Show You My Heart."  It's not a tribute TO him, but I basically emulated the song "Sweet Dream Woman" when I produced it and it sounds a lot like an old Waylon track.
Q.  Outside of music, what is something that you are very passionate about?
A.  I love cooking, I love food.  I love cooking.  I like havin' fun, I like traveling and being outdoors.  Ya know, I need to start fishing more, I used to fish a lot, growing up I fished all the time.  But I haven't been fishing in years, and it's like "I need to get back into it."
Q.  Cooking…you've never had any Chris Young-type accidents, right?
  A.  What happened?  (We explained to him how Chris Young had cut his hand while cooking, which led to him having to cancel his autograph signing and LP Field performance later that night).  I heard about something…cooking?  (he turns to publicist)  "There's an opening, call Jeff!" (laughs)
Q.  What's been the biggest Wow moment of your career?
A.  It's funny.  As a kid, my aunt was always telling me that she wanted to get me on the David Letterman show, and so I had this little fake guitar, and I'd sing this song called "The Corner Grocery Store," that I learned in school when I was probably six or seven years old, if even…probably five or six years old, and she told me that she sent a letter into David Letterman to see if I can get on the show, and I believed her.  Thought that, "Wow," ya know, I really thought in my mind that I might really have a chance to be on the David Letterman show.  And so, years later passed, I ended up playing on the Late Show with David Letterman.  And I remember when he was introducing us, looking over and remembering that from being four or five years old and thinking that I really thought that I was going to be on the show, and then it happened.  And I remember right before he was announcing us that it was really surreal to me.  It felt like a moment where I was like, in the Twilight Zone.
Q.  What is the #1 item on your Bucket List?
A.  To play LP Field in place of Chris Young tonight.  (laughs).  No, the one thing on my Bucket List that I haven't done?  I want to run a triathlon.  I always told myself that I'd do it by the time I was such a certain age.
Q.  Do you remember the first time you heard yourself on the radio, and what was that like?
A.  Yeah, it was really cool.  It was kinda a let down though, ya know it's like…not a let down…but it's…it was back in my hometown and I was trying to get played, and it was really exciting, but then after it's over, nothing happened (laughs).
Q.  What are your thoughts on the state of today's Country Music, with Bro-Country taking over?
A.  Starting to take over?  There's no starting about it, I think it's been going that way…I think it will shift.  I think it's cool, I think if you do it the right way there's nothing wrong with it.  I think Florida Georgia Line hit it right on the head.  I think that's why they're so successful.  I like them.
Q.  What advice would you give to an aspiring artist trying to make it in the music business?
A.  I would say to an aspiring artist…to follow your gut instincts, with anything you do probably, because you're right, you're hardwired to have those gut feelings for a reason, and then I would think to continue to listen to as much music as you can, make your own style, and eventually when you get to the point, people will start coming to you.  Continue to show up, because it's people who keep showing up who eventually beat the door down.