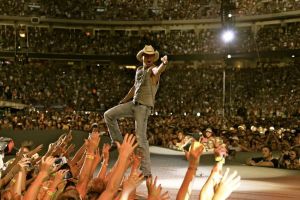 Kenny Chesney sure knows how to create buzz!  He has made yet another big announcement about his 2015 Big Revival Tour!
First, he announced that he was coming back to the road with a series of ten stadium dates co-headlined by Jason Aldean.  Then, he announced that his tour would include a total of 55 tour dates, including a total of fifteen stadium shows with Brantley Gilbert as his opener.  Next, Chesney announced that Eric Church would be co-headlining 5 stadium shows!
Today, Chesney announced that Jake Owen, Cole Swindell, and Chase Rice would be joining him on select dates (TBA) of this mega tour!
"When I came to town, I was a writer, trying to get my songs cut – and playing on a stool down on Lower Broadway," Chesney says. "I didn't have nearly the success Cole and Chase are enjoying right now, but I know the difference getting your music in front of an audience makes. For both of these guys, who have a lot of energy and a real way of grabbing people, I think it's the perfect way to get the audience fired up for the show."
"It's not just about the big names," Chesney says of his tour chemistry. "It's about fresh faces people need to know. If I can turn people on, or remind them of an artist like Jake, I know they're gonna get a show that rocks them, but also opens up some new music. To me, that's the secret of a great show: what you know and what you find out. In just a few days, I'll have some more news to share, that is going to step up this tour to a whole other level…"