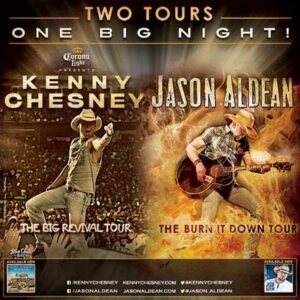 Kenny Chesney and Jason Aldean have announced that they will join their tours together for a series of stadium shows in 2015!
"We've played so many of these stadiums so many summers, I know just how hard the fans coming out can rock," Chesney says. "There aren't a lot of guys out there who can hit it the way Jason does, so I'm glad we're able to bring both of our tours together for 10 nights this summer. I know what me and the guys are bringing in terms of music, and I know Jason can hang with us!"
"Kenny is the guy everybody in country music looks up to when they think about workin' hard, building your career out on the road and getting to eventually play stadiums," added Aldean.  "When we first started dipping our toe into that business a few years ago, he's the guy I would call or text for advice.  We have a real friendship.  Don't get me wrong…that doesn't mean I'm going to make it easy to follow me every night…he's gonna have to work for it harder than he ever has before!"
Additional artists will be added to the lineup.  Check out the joint tour dates to see if they're bringing the mega-show to a town near you!
5/2/15              San Francisco, CA                  Levi's Stadium
5/16/15            Dallas, TX                               AT&T Stadium
6/20/15            Green Bay, WI                        Lambeau Field
6/27/15            Seattle, WA                             CenturyLink Field
7/18/15            Minneapolis, MN                   Target Field
7/25/15            Pasadena, CA                          Rose Bowl
8/1/15              Kansas City, MO                    Arrowhead Stadium
8/8/15              Denver, CO                             Sports Authority Field at Mile High
8/15/15            E. Rutherford, NJ                   MetLife Stadium
8/28/15            Boston, MA                            Gillette Stadium