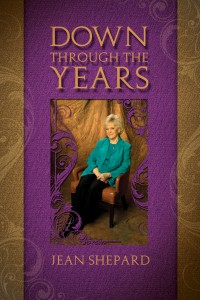 Country Music Hall of Famer Jean Shepard will be releasing "Down Through the Years" this week just in time for CMA Music Festival!
Shepard will roll out the 224-page hardback at a special book-signing (while supplies last) at the Country Music Hall of Fame and Museum this Friday, June 6 from 1 – 2 P.M.  Matriarch of the Grand Ole Opry and its longest-standing female member, Shepard presents a first-hand account of her life and over-60-year iconic career in her own words as a "personal conversation with every reader of this book." After the signing, the book may be purchased exclusively through the Country's Family Reunion website for $19.99 (plus $6.95 shipping and handling) at cfrvideos.com or by calling 800-820-5405.
"Down Through The Years" features commentary from other Country Music stars including Bill Anderson, Garth Brooks, Reba McEntire, Vince Gill, Jim Ed Brown, George Hamilton IV, Del McCoury, Jimmy C. Newman, Connie Smith, Marty Stuart and Mel Tillis, to name a few.
Regarded as a pioneer for women in country music, Shepard was signed to Capitol Records at a time when it was thought women could not sell records. Discovered by Hank Thompson following the success of Kitty Wells, Shepard appeared on the first network Country Music television show, "The Ozark Jubilee." Jean was also the first female in Country Music to sell a million records, to make a color television commercial and to overdub her voice on recordings.  Shepard's career has yielded over 45 albums and 70 singles, including "A Dear John Letter," "Second Fiddle (To an Old Guitar)," "Tips of My Fingers" and "Slipping Away," to name a few. She regularly performs at the Grand Ole Opry and maintains a busy road performance schedule.
Here are a few excerpted facts that you may not have known about Jean Shepard:
At age 19, Jean couldn't legally travel through the states without a guardian, so Ferlin Husky was granted guardianship. Jean went on to record the duet with Husky "A Dear John Letter" which became a #1 single.
Shepard started out in an all-girl band called the Melody Ranch Girls with whom she's stayed in touch throughout her career.
Johnny Horton was one of Jean's first boyfriends. She continued to be a close friend until his death in 1960.
Jean was in a near-fatal bus accident while traveling with Hank Williams Jr.  When Jean was eight months pregnant, Jean's husband, Hawkshaw Hawkins, was killed in a fatal plane crash that also claimed the lives of Patsy Cline and Cowboy Copas.