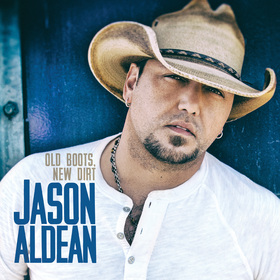 Jason Aldean announced this morning that his 6th studio album will hit stores October 7th!  The album will be titled Old Boots, New Dirt, and will feature 15 tracks.
"With this new album, it's definitely the same old me.  But, I like to mix things up and try new sounds and go into territory I've never explored before, so I do a little bit of that too. That's why I named the album 'Old Boots, New Dirt'…I'm almost 10 years into this crazy ride, but in a lot of ways, I feel like I'm just gettin' started," said Aldean. "I think my fans have come to expect some surprises from me, and we've got another big one comin' tonight. You'll have to pay attention or you could miss it in a flash."
You can pre-order the album now on his website, including autographed copies for just $14.99!
Here's the track listing for the new album!
1. Just Gettin' Started
(Chris DeStefano, Rhett Akins, Ashley Gorley)

2. Show You Off
(Neil Thrasher, Tony Martin, Brett Beavers)

3. Burnin' It Down
(Rodney Clawson, Tyler Hubbard, Brian Kelley, Chris Tompkins)

4. Tryin' To Love Me
(Wendell Mobley, Hillary Lindsey, Neil Thrasher)

5. Sweet Little Somethin'
(David Lee Murphy, Ben Hayslip, Marv Green)

6. Laid Back
(Michael Tyler Spragg, Jaron Boyer, Adam Shoenfeld)

7. Tonight Looks Good On You
(Dallas Davidson, Rhett Akins, Ashley Gorley)

8. Too Fast
(Chris Stapleton, Lee Thomas Miller)

9. If My Truck Could Talk
(Wendell Mobley, Neil Thrasher, Andrew Pates)

10. Old Boots, New Dirt
(Lee Thomas Miller, Tom Shapiro, Neil Thrasher)

11. I Took It With Me
(David Lee Murphy, Ben Hayslip)

12. Don't Change Gone
(Neil Thrasher, Tony Martin, Michael Dulaney)

13. Miss That Girl
(Ross Copperman, David Lee Murphy)

14. Gonna Know We Were Here
(Brett Beavers, Brett James)

15. Two Night Town

(Tim Nichols, Brett James)