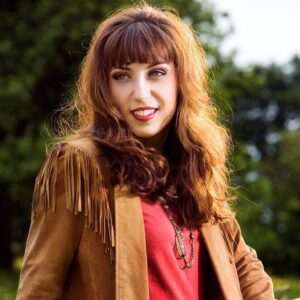 You may not have heard of British country singer-songwriter-musician Sasha McVeigh yet, but she will be performing at several country festivals around the US this year.  We had a chance to ask her some questions…check out her answers below!  You can also check out her website here!
1.  You're getting ready to release your debut full-length album I Stand Alone next month.  How would you describe the music on this project?  
You can certainly hear a progression from my previous release, which was just a simple acoustic EP. But, what I love is this album is still very 'Sasha McVeigh' – you can hear me in the music and the songs, which I think is important for a new artist. You don't want to get lost in the production and you also want to create a sound that fans can recognize as being "you". It's Country but infused with elements of Pop, Rock and Blues which definitely relates to the music I grew up listening to. Interestingly the whole project was funded through Kickstarter, so it makes it even more special. I'm proud of how the album has turned out, it's something I've wanted to do since I was 12 years-old!
2. You've visited the United States a few times from England…do you have any plans on moving here permanently to pursue your career?
I would definitely love to relocate at some point. It would be a dream come true! Right now it's just not possible though, but what's great is I'm doing a lot more in the UK now because country music has started to make a comeback over here, which is incredible. In fact, I just finished my first UK and Ireland tour, with some of the dates selling out. I feel very thankful to have such amazing, dedicated and supportive fans on both sides of the Atlantic.
3.  Who are some of your biggest influences?
Elvis Presley, Zac Brown Band, Alan Menken, Wyatt Durrette, John Denver, Dolly Parton to name a few. I've been an Elvis fan since I was 7 years-old and I've loved Dolly Parton from the days my Dad used to dance me around our coffee table to CMT. Zac Brown Band and Wyatt Durrette combined are way up there as far as influences go – their songwriting and musicianship really speaks to me. I love Disney music and you can't get better than Alan Menken when it comes to Disney composers. The emotion he manages to put into the music is unbelievable. John Denver is one of those artists who has the ability to convey openness and a sense of possibility in his songwriting and delivery of his songs, it gives me goosebumps and is something I hope to master in my writing.
4.  What charity or cause do you support?
I support Help For Heroes (UK) and Wounded Warrior Project (US) because my Dad was in the special forces over here. It's a blessing, the sacrifices these men make for us. I'm also a supporter of Ditch The Label (UK), The Native American Rights Fund (US), Pacer (US), Conservation International and the Ann Conroy Trust (UK).
5.  Where were you when you first heard yourself on the radio, and what was your reaction like?
Ha ha I was actually in the kitchen, at home with my parents. The acoustic version of 'Stupid Girl' was played across all the local BBC radio stations – the BBC is a huge deal in the UK. I couldn't believe it, it was very surreal. I was running around the kitchen shouting "That's me! That's me! That's my song!!" It was a definite milestone for me and one that I'd always dreamed of achieving. I had the biggest smile on my face!
6.  What is the #1 goal you hope to achieve in your music career?
I hope to get to a level where I can just be out on the road and go wherever the fans are. Be in a position to put on the best live show possible with a proper, full band and make the live sound so close to the recordings that you can't even tell the difference. After all, I'm a fan first and I love seeing my favourite artists perform live with all these cool video screens that enable full artist-fan interaction. I mean, being on the cover of a magazine would be wonderful but that's not why I'm in this industry. I'm a singer, songwriter and performer. It's all about the music and the fans for me!
7.  What is the #1 item on your Bucket List?
My Mum and I have been working on our respective bucket lists for a few years now. At the top of both our lists is to visit all 50 of the US states. We've managed to get to 34 of them – I think – so we're over half-way there which is amazing. Each state is so different, it seems crazy to be able to be up in South Dakota and there are pine trees covered in snow, then drive to Las Vegas and you're in the desert. I love the diversity of the landscapes, the different accents. It's really cool.
8.  Outside of your music career, what is something that you are passionate about?
I'm a bit of an American History nerd, especially when it comes to Native American History and Culture. I've been to Jamestown and Werowocomoco in Virginia, as well as seen the Crazy Horse Memorial, the site of Wounded Knee and The Battle of the Little Big Horn, all in South Dakota. I'm fascinated by each tribes history and the ancestry. It probably all links back to my love of Disney (something I'm also extremely passionate about) because I of course saw Pocahontas as a child, and it's always been my favourite. That's what got me particularly interested in the Powhatan Indian tribe. I have so many books, I cut out articles, it's a little bit of an obsession really. I actually wrote a song called "We'll Never Know" which came about while I was in High School. We were studying the "Plains Indians" and hearing about the conditions on the reservations, the brutality of what happened to these people, it struck a chord with me and I wrote the song about Native American rights. One day I'd love to release it and have the proceeds donated to the Native American Rights Fund.
9.  What has been the biggest "wow" moment of your career?
My biggest "wow" moment has got to be when I performed for the Academy of Country Music at the ACM Awards Kick-Off Concert in Las Vegas. Hunter Hayes was the headliner, then it was Cole Swindell, David Nail and myself. There aren't words to describe that day. I got asked to do the show by Bob Romeo after he saw me performing in the VIP Area at Country Jam Colorado in the summer of 2013. He told me he wanted me to be a part of the ACM Awards week that following April and he kept to that promise. It was an amazing feeling knowing he believed in me that much. It was one of those dream come true moments that you never imaging happening to you.
10.  What advice would you give to an aspiring artist trying to make a career out of music?
The sad truth about the music industry is it's all very money orientated and based on who knows who, rather than being based on a person's talent and what they've managed to achieve. When I went into this in 2012, flew to Nashville and all of that, I was naive to all of that and it's incredibly disheartening when you make that realization. That's the first thing I'd tell a new artist, I'd make them aware of the shady side because once you know that, you truly know what you're up against. I'd also tell them to never compare themselves to other artists because, for the most part, it's like comparing apples and oranges. If you're still having fun doing what you're doing, you're loving waking up every morning, you're loving the songs you're writing, then keep going. When it stops being fun, you need to re-evaluate. What's the point in reaching your destination if the journey itself gets you down. Also, never let anyone tell you who you should be. Take advice from people but don't let them change who you are. It's hard for a new artist to find an identity sometimes because people love throwing in their two cents. Be yourself, have fun and live for the music…then you'll be fine!