In case you missed it, we gave a trip away a couple of weeks ago to a lucky fan that got to fly to Chicago with free airfare, hotel, and tickets to see one of Garth Brooks' first shows back on the road!
As part of her prize, she also had the opportunity to MEET Garth Brooks and ask him a question!
Now that she is back from the trip of a lifetime, she has sent us an email describing her experience.  Check it out!
It was truly a once in a lifetime experience…
My sister-in-law was part of this adventure, she wanted Garth to autograph the hat she wore when she married my twin brother!  Their wedding song was "Shameless" by of course Garth Brooks.
At 5 am we drove to the Miami Airport…we made it on time but were delayed taking off an hour because of bad weather in Chicago.  Once we arrived in Chicago we grabbed the shuttle to the hotel and had time to change before the interview.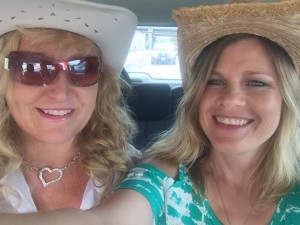 Once at the interview we waited with 5 other couples that has won similar contests.  We were finally escorted in to see Garth, at which pointed we waited because at the same time we found out that Joan Rivers had passed away. We watched how the PR crew handled this.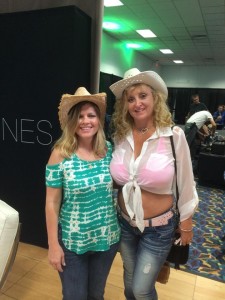 FINALLY Garth came out. I was picked second to interview Garth and the crew gave me the question to ask him (this was one of the questions I had emailed in the day before). My question was "What was your inspiration for People loving People"? He gave a great answer about making a difference together and not by ourselves. After the winners had a chance to ask their questions we were able to take a group and individual shots with Garth, this was also captured by some media outlets. We were told we were seen on ET by a friends mother in Michigan!  
After that, we had a nice dinner at Toby Keith's "I Love this Bar & Grill."  It was a long day and an early night to bed!
The next morning we went for breakfast and then hit the outlet mall for some girl time.  Shopping took us to the time to get ready for the concert.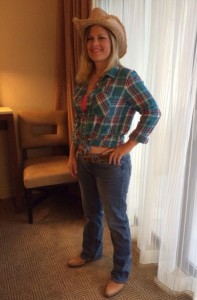 We had good seats and sat with the rest of the winners.  
Garth's opening set gave me goose bumps, a nice "g" on the screen. Next came a shadow of Garth until the curtain fell.  After a few songs Trisha came out to give Garth a break.  When Garth came back he was going to sing with Trisha…it was her new duet with Kelly Clarkson "Prizefighter."  Garth says "I can sing it better then Kelly Clarkson," then SHE came and was like "no you can't!"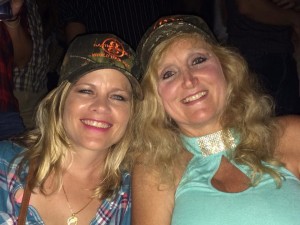 I give kudos for Garth making it the whole concert when it was the second night and his 3rd concert in 13 years.  We finished the night at the hotel bar celebrating our trip of a lifetime. Thank you Hometown Country Music and South Florida Country Music!!!