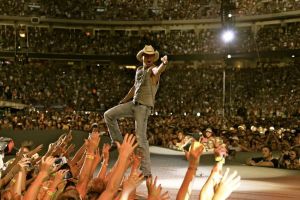 The big news keeps rolling in about Kenny Chesney's 2015 Big Revival Tour!
First, he announced that he was coming back to the road with a series of ten stadium dates co-headlined by Jason Aldean.  Then, he announced that his tour would include a total of 55 tour dates, including a total of fifteen stadium shows with Brantley Gilbert as his opener.  Today, Chesney announced that Eric Church would be co-headlining 5 stadium shows!
"There is something about the way Eric connects with my audience," says Chesney, "that left me feeling like he made the No Shoes Nation Tour something special! He attacks the stage with so much force – and his songs really speak to the people who're fighting the fight to get by – and I love that about what he does onstage."
"I'm so glad the fans in these five cities will get to rock with Eric this year," Chesney enthused. "It's a wild night when we get together… and it's something everyone should be a part of!"
The Big Revival Tour dates featuring Church are as follows: 
Saturday, May 9         Indianapolis, In. at Lucas Oil Stadium
Saturday, May 30       Pittsburgh, Pa. at Heinz Field
Saturday, June 13       Atlanta, Ga. at The Georgia Dome
Saturday, July 11        Philadelphia, Pa. at Lincoln Financial Field
Saturday, August 22   Detroit, Mich. at Ford Field
"Some of the most fun I've ever had on tour was last summer with Kenny," shares Church.  "He's an artist that isn't afraid to let you come full blast and do what you do.  It's rare you get to tour with someone you respect and you are friends with.  I can't wait to do it again."
So to summarize, it appears that Chesney will perform 15 stadium shows, 10 of which will be co-headlined by Jason Aldean, 5 of which will be co-headlined by Eric Church.  We guess that Brantley Gilbert will be on all 15 lineups, leaving 40 tour dates to be performed by Chesney at festivals, amphitheaters, and arenas.  Stay tuned as we'll keep you updated when more dates are rolled out!