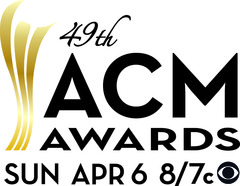 The 49th annual ACM Awards will air live from the MGM Grand Garden Arena in Las Vegas on CBS on Sunday, April 6th at 8pm eastern.  Luke Bryan and Blake Shelton will return as hosts of Country Music's Party of the Year®.  Tickets range from $175 to $550 if you wish to attend in person, and there will be plenty to do in town that weekend including the 4th Annual ACM Fan Jam hosted by Florida Georgia Line that night from the Mandalay Bay Events Center.  The Fan Jam will be used as a live remote location for performances during the broadcast, as well as featuring a performance by Florida Georgia Line after the broadcast ends.  Ticket for the Fan Jam will be $40-85.
The after-show party, the annual All-Star Jam, will be held in the MGM Grand Marquee Ballroom immediately after the broadcast and carry a $200 general admission price tag.
As they have done the last 5 years, the night after the awards show will feature the taping of the ACM Presents special which will air on TV at a later date.  Tickets to this event will range from $105-$205.  Previous years specials have honored George Strait, Brooks & Dunn, Lionel Richie, Tim McGraw, and more.
For more information on all events and future announcements regarding the ACM week in Vegas, visit acmcoountry.com.