Jim Foglesong, a major player in the history of Country Music and a member of the Hall of Fame, passed away this morning at the age of 90.
Foglesong was instrumental in the careers of many stars while serving as President of major labels such as MCA, ABC/Dot, and Capitol.  He is responsible for signing both George Strait AND Garth Brooks to their record label deals, and also worked with legends such as Donna Fargo, Freddy Fender, Don Williams, Roy Clark, Barbara Mandrell, Reba McEntire, The Oak Ridge Boys, and more.
After retiring from the music business in the '90's, he served as a professor and administrator at Vanderbilt University in Nashville.  He was inducted into the Country Music Hall of Fame in 2004.  Check out what some of the country stars are saying about his loss.  More commentary will be added as it becomes available.
Barbara Mandrell – My family and I are deeply saddened by Jim Foglesong's passing," Barbara Mandrell says. "Jim's family and mine have shared so many wonderful times together as dear friends for so many years.  He was such an important influence on my career as my record company president for most of the years I spent recording.   He was a loving and caring friend who provided thoughtful wisdom and guidance.   I have comfort and peace knowing that Jim loved our Lord Jesus Christ and he's with Him now.
Garth Brooks – Today, the music industry lost its greatest diplomat for kindness, tolerance, faith and sincerity.  But do not weep for Jim.  I have never met a man with a stronger faith; anyone who knew Jim knows where he is now.   Instead, weep for those of us who are left here without him … truly, a great, great man.
Lee Greenwood –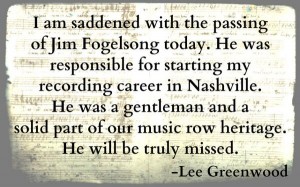 Sawyer Brown – Today we mourn the passing of Jim Foglesong—a great friend, a true mentor, and the man who signed us to Capitol Records in 1984. Over his 90 years, Mr. Foglesong was an accomplished singer, arranger, producer, record executive, professor, and member of the Country Music Hall of Fame—but he was first and foremost a Christian man, a man whose word meant something when he gave it. He was supportive of us at a time when there were folks who couldn't figure us out—but he encouraged us to just be who we were. (I'm sure there were those who questioned his sanity about that.) Mr. Foglesong signed the Oak Ridge Boys, Barbara Mandrell, George Strait, and Garth Brooks to name a few—but he was never one to be interested in taking credit. He just loved music, cared about people, and played fair. Jim Foglesong was one of the good guys, and he will be greatly missed. Our thoughts and prayers are with his wife Toni and his children and grandchildren.
The Oak Ridge Boys – We lost a dear and long time friend and mentor today… R.I.P. Jim Fogelsong.  We would NOT be here if not for YOU! A very sad day for ALL!  Under the word 'Gentleman" in the dictionary there should just be a picture of Jim Fogelsong… it would explain the definition… RIP