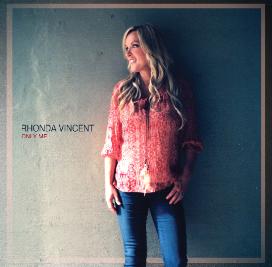 Rhonda Vincent is a well-decorated Bluegrass legend, with several awards over the years from the IBMA (International Bluegrass Music Association), some of which include the 2001 Entertainer of the Year and several Female Vocalist of the Year awards.   She has had seven albums peak at #1 or #2 on the Bluegrass charts, and has even had some crossover success with her songs being played on country radio and on country video channels.  She is also a sweet woman, who I had the pleasure of meeting at CMA Fest in 2012.
Her latest project is a 2-disc combo album that drops on January 28th.  The first disc is a 6-track Bluegrass album that features collaborations with Willie Nelson and Daryle Singletary, while the 2nd album features six tracks, five of which are covers of classic country songs.
The Bluegrass album starts off with "Busy City," an uptempo song with some quick pickin' and fiddlin'.  The album then takes a 180 degree turn with "I'd Rather Hear I Don't Love You (Than Nothing at All)."  It's a much slower song with a message that I'm sure many a lady wishes they could say to their man!
Willie Nelson joins Vincent on the title track, which is a really catchy song that blends their voices together perfectly.  This is probably my favorite track on the Bluegrass album and is written by Billy Yates and Roger Brown.   "The Bluegrass pickers on this song are some of the best that I have ever heard. When I think of Bluegrass, this is the sound that I hear," says Willie Nelson.  "Rhonda's voice is beautiful.  I am thankful for her letting me be a part of it all."
"We Must Have Been Out of Our Minds" is another treat on this album because it lets us hear the great voice of Daryle Singletary.  The Bluegrass album ends with the Bluegrass/Gospel/Inspirational song "It's Never Too Late."
The Country album starts you off with a nice heavy dose of steel guitar on the self-penned ballad "Teardrops Over You," a great song that could've been played on the radio in the '90's.
"Once a Day" is a great cover of Connie Smith's 1964 #1 smash hit, a song that sat at #1 for 8 weeks and was written by the legendary "Whisperin'" Bill Anderson.
"Beneath Still Waters" is her cover of the Dallas Frazier penned song that was first released as a single by Diana Trask in 1970 with minor success, then again in 1980 when Emmylou Harris made it a #1 hit.  It is very nicely done here (also heavy on the steel guitar, which I love!).
Bill Anderson's influence is back on the next track, as he co-wrote "Bright Lights & Country Music," a song he had a hit with as a single in 1965.  Another one of my favorites on here.
"When the Green Grass Grows Over Me" is a great classic country song that was a #2 hit for George Jones in 1968 and has been performed by many artists from Conway Twitty to Tammy Wynette, and even covered by modern stars such as Rodney Atkins.  Vincent fits right in with all of these stars with her own great version of it.
The album finishes with "Drivin' Nails," a cover of Ernest Tubb's 1946 #5 hit "Drivin' Nails in My Coffin."  Vincent changes the lyrics up slightly to make it gender specific, and produces a toe-tappin', honky-tonkin' finish to a great mix of music.
Overall this is an interesting project showing Vincent's strengths as both a Bluegrass and Country vocalist.  I especially enjoyed the duets on the Bluegrass album, and loved the covers on the country album.  In a country music world where country music isn't so country anymore, it's nice to have a new album out that reconnects to the past.