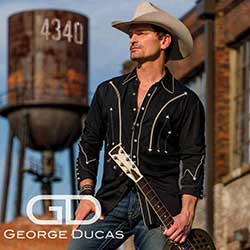 George Ducas was basically a one-hit wonder in the '90's when his song, "Lipstick Promises" hit #9 on the country charts in 1994.  Since then, he's been making a living as a successful songwriter, having penned hits such as "Beer Run" (with Keith Anderson and others) for Garth Brooks & George Jones, "A Real Fine Place to Start" for Sara Evans, "Always the Love Songs" for the Eli Young Band, "Won't Be Lonely Long" for Josh Thompson, and several other album cuts for stars such as The Dixie Chicks, Gary Allan, Trisha Yearwood, and more.
His new album 4340 is a collection of real "country" songs, the kind you don't get to hear too often on the radio anymore unfortunately as country music has evolved into pockets of sub-genres that have forced the twangy sounds of the '90's off the airwaves.  While many of these songs sound like they came from the country music of 10-20 years ago, the record as a whole does a good job of bridging the music from that era to today.  Ducas wrote or co-wrote all twelve songs on the album, which is full of radio-friendly music.  The album drops on Tuesday, October 29th.
When I first started playing the album, I thought I was listening to Kevin Fowler with the opening of the first song, "CowTown" – both with the vocals and the rockin' nature of the song.  Considering I am a huge fan of Kevin Fowler, this is a good thing and a good way to start the album.
"Ain't That Crazy" is about how things have changed…from how a phone knows when it's upside down to saying "I do" to his wife.   "Ain't that crazy, what we used to think was insane…ain't that crazy, now it's just an everyday thing."  I of course love that this song has a healthy dose of steel guitar as well!
"White Lines and Road Signs" harkens back to the good old days of Brooks & Dunn in their prime…the lyrics sounds like something Ronnie Dunn would write (mentions Albuquerque in the first line) to the vocals sounding like Kix Brooks.
The album finishes strong with track #10 "Amnesia" and "#12 "Your Song," two of my favorites on the album.
 Due to his age and length of time out of the spotlight, it is unlikely Ducas will have much commercial success with this album, but it is better than 90% of the new music coming out these days that somehow does make it onto your radios.  If you're a fan of good ole fashioned country music, this album is a must-buy for you!