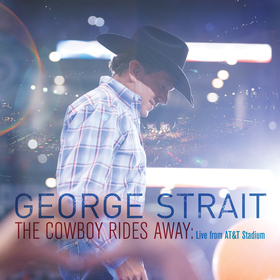 George Strait announced today that he will be releasing a live album titled The Cowboy Rides Away:  Live From AT&T Stadium on September 16!  It will feature live recordings of his final concert, including several duets with other stars.
As previously announced, Strait fans have an opportunity to relive the June 7, 2014 The Cowboy Rides Away Tour Dallas date with a two-hour "George Strait: The Cowboy Rides Away" concert special airing Aug. 29 exclusively on CMT (check local listings).
Check out the album track listing below!
The Cowboy Rides Away: Live From AT&T Stadium Track Listing:
1.  Check Yes Or No
4.  Arkansas Dave (with Bubba Strait)
6.  That's What Breaking Hearts Do
7.  Marina Del Rey
9.  I Can Still Make Cheyenne
13. The Chair
14. Give It All We Got Tonight
16. I'll Always Remember You
18. Troubadour
19. All My Ex's Live In Texas (with Jason Aldean, Ray Benson, Kenny Chesney, Eric Church, Sheryl Crow,
Vince Gill, Faith Hill, Alan Jackson, Miranda Lambert, Martina McBride)
20. The Cowboy Rides Away