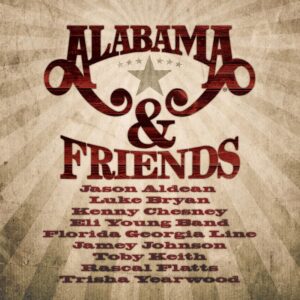 Alabama will be releasing their new Alabama & Friends album on August 27th!  This album will feature 9 classics with modern stars putting their own twist to them as well as two new original Alabama songs – the first such recordings in over 10 years!
"Our longevity is a tribute to the hard work we did in selecting songs, because it's the songs that people remember," says bassist Teddy Gentry.
"It's very much an honor that they'd take part in an ALABAMA tribute," guitarist Jeff Cook says of the acts included on the album.  "We had a lot of fun working with them, and I think the finished product testifies to both the fun and the quality that went into it."
Check out the track listing below!
1. "Tennessee River" Jason Aldean Produced by Michael Knox      2. "Love In The First Degree" Luke Bryan  Produced by Jeff Stevens     3. "Old Flame"  Rascal Flatts Produced by Jay DeMarcus   4. "Lady Down on Love" Kenny Chesney
Produced by Buddy Cannon
5. "The Closer You Get"
Eli Young Band Produced by Michael Knox     
6. "Forever's As Far As I'll Go"
 Trisha Yearwood
Produced by Garth Fundis
7. "She & I" Toby Keith Produced by Toby Keith   8. "I'm In A Hurry (And Don't Know Why)" Florida Georgia Line Produced by Joey Moi       9. "That 's How I Was Raised" ALABAMA Produced by Harold Shedd       10. "All American" ALABAMA Produced by Harold Shedd      11. "My Home's in Alabama" Jamey Johnson Produced by Jamey Johnson  
 We recently attended Alabama's show in Clearwater, FL.  Check out our photos from it here!