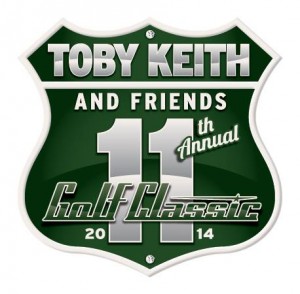 The 11th Annual Toby Keith & Friends Golf Classic will take place May 16-17, 2014 in Norman, OK, and will feature a live auction, nearly 100 silent auction items, food, entertainment, and a celebrity-filled round of golf.  For the opening festivities, Toby will act as auctioneer!
The Friday night invitation-only event at the Riverwind Casino will feature 750 guests who will bid on auction items including an African safari, a stay at The Lodge and Spa at Brush Creek Ranch in Wyoming, a guitar signed by the Oklahoma Tornado Relief artists, a bull elk hunt, and autographed items from Colin Kaepernick, Kurt Warner, Derek Jeter, Dan Marino, Nolan Ryan, Ken Stabler, Phil Mickelson, Alice Cooper, Jimmy Buffett, Jason Aldean, George Strait and many more. The ladies can also bid on a bohemian black and white crystal chandelier, custom jewelry from SL Designs, a basket of Ree Drummond's (The Pioneer Lady) favorite things, a trip to Lake Tahoe and a fur coat.
On Saturday morning, 200 golfers will have a great time with the celebrities who attend the event at the Belmar Golf Course.  Some of the celebrities include Dermontti Dawson, Tony Casillas, Roy Williams, Sam Bowie, Nancy Lieberman and Red Steagall.  The golf event has grown to include two shotgun starts and ends with the Built Ford Tough Shootout where someone will win a new Ford Truck!
The Classic benefits OK Kids Korral, a cost-free home-away-from-home for pediatric cancer patients, and is the largest event The Toby Keith Foundation hosts.  Since officially opening on January 7, 2014 the Korral has had more than 75 family visits with stays ranging from one day to eight weeks. Also, more than 20 volunteer groups have come in to cook for the families and help clean and organize.
"We work on this event for months and months because we know it helps keep all the great things at the OK Kids Korral up and running, says Toby Keith.
 "Our families inspire us every day.  The work that goes into the Golf Classic is well worth the reward of staying open for the families who need us," Juliet Nees-Bright, executive director of The Toby Keith Foundation, said.
For information on the Toby Keith Foundation, the 11th Annual Toby Keith & Friends Golf Classic, or other ways to help support OK Kids Korral, please visit www.tobykeithfoundation.org.